Friends events 2010-11
The Summer Fete - 26/6/11
On what turned out to be the hottest day of the year so far, we held our Annual Summer Fete in the playground and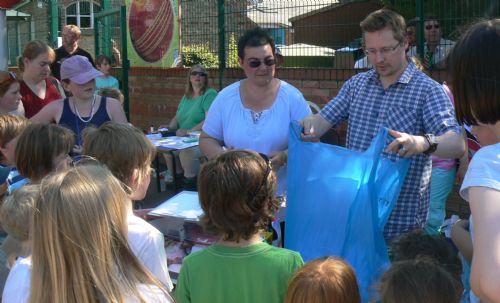 car park at school. Utilising all the gazebos to give as much shade as possible, we set up an array of stalls and attractions to welcome pupils, parents and friends alike. The top prize in the raffle - a 1/2 day 4x4 tuition experience at Manby Motorplex - was won by Paula Cornelius, and 12 prizes were awarded in total having being drawn by Mr Morley and an array of child helpers!. After a sun soaked, fun filled afternoon, a magnificent total of £2648 has been raised which will go towards helping the school in an array of ongoing projects. Thanks to everyone who helped in any way, and congratulations to all our prize winners.
The Nosh & Knowledge Shield Quiz - 13/5/11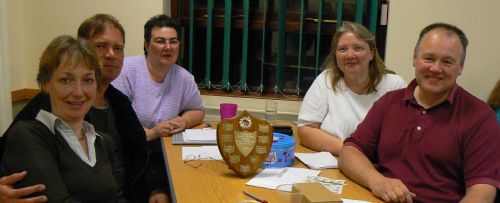 The Annual Nosh & Knowledge Shield Quiz took place on Friday 13th May, with the date being "Unlucky for Sum"! 8 teams answered questions set by Steve Mills and at half time the team "Unlucky for Sum" - featuring Simon Morley, Ann Scarbro, Sue Jackson, Priya & Matt Cull & Natalie Wallis - were leading with 56 points. In a nail biting ending, and unusually, "Unlucky for Sum" and "Out at Last" tied for first place. An extra round was played and "Out at Last" took the lead with 101 points while "Unlucky for Sum" ended with 100 points. "The Wine Witches" - featuring Nicole Wood, Claire Wilson & Vicki Ball - won the infamous wooden spoon after coming in last place with 62 points.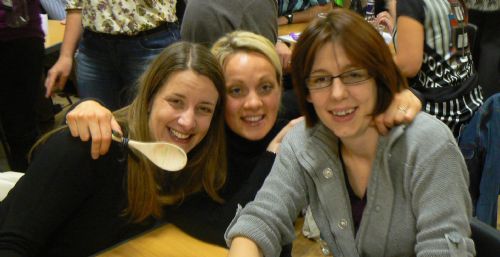 Everyone enjoyed the buffet at the interval and had the chance to buy raffle tickets for the draw after the quiz. Thanks to all who attended, it meant we were able to raise £168 on the night. Pictured are "Out at Last", the winning team - featuring Paul & Kate Argyle, Siobhan & Stuart Hoyle & Joanne Brewster - with the Shield and their prize, along with "The Wine Witches", winners of the wooden spoon.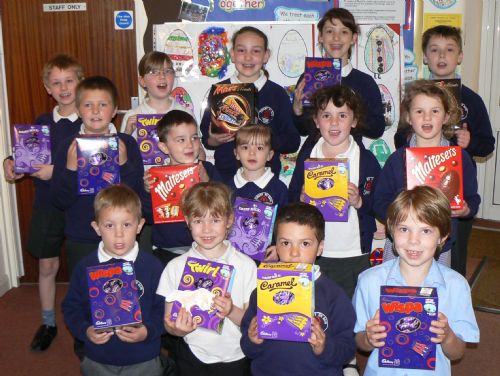 Easter egg competition - April 2011
In the run up to the Easter holidays, two competitions were running in school. Fourteen children received an Easter egg each when they were judged the winners in the design competition, by Mr Morley. The winners from each year group were chosen, and are pictured with their prizes.
The "guess the mini eggs" competition was won by Sandie Beattie & Nikki Cooke who both correctly guessed there were 286 eggs in the jar - the prize will be shared equally between them!
Thanks to everyone who entered both competitions which jointly raised £140.
Ladies Pampering Evening - 25/3/11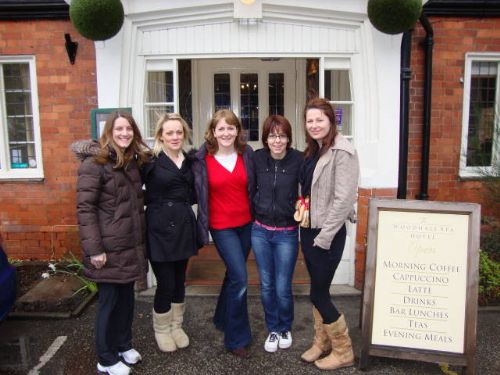 Around 70 of our parents and members of the local community enjoyed a fantastic evening of wine, nibbles and beauty treatments. There were a variety of stalls from chocolate to jewellery and Indian Head Massage to acupuncture.
The raffle was a great success bringing in around £300. Congratulations to Heather Walton who won the "Ultimate Liz Earle Hamper".
A big thank you to everyone who helped organise the evening but especially to Stacy Cleaver who masterminded the whole event.
Disco - 18/3/11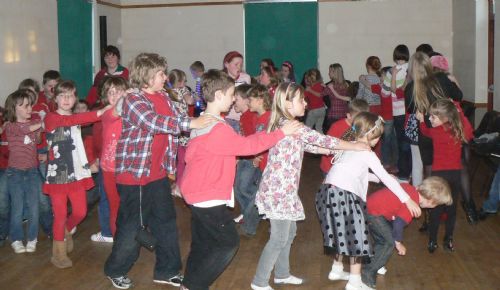 More than 60 children enjoyed the disco held at Roughton Hall. Several games were played, including musical bumps, and a huge conga line snaked its way around the hall! More than £90 was raised on the night thanks to all those who attended.
Nosh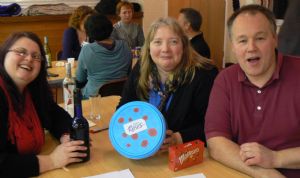 & Knowledge Quiz - 5/2/11
Seven teams took part in the Nosh & Knowledge Quiz, in Tattershall Village Hall, which raised £120. Proud new owners of the wooden spoon are "The Haltham Harriers" with 50 points, and Winners of the Quiz with 99 points were "The Late Comers" – Kate & Paul Argyle, Nicola Irving & Joanne Brewster. Some of the winning team are pictured with their prize.